Alfred W Bennett
Ballarat City Rowing Club (VIC) and Ballarat Rowing Association (VIC)
Lieutenant Colonel Alfred Wilton Bennett V.D.
1889-1895 - Club Captain
1904-05 - Club Vice-President
1908-1909 - Club Vice-President
1910-1915 - Club President
1918-1922 President
1923 - Racing pair christened Col. A. W. Bennett
Alfred Wilton Bennett was born in 1866. He married Elizabeth Bentley, whose father owned Craig's Hotel, in 1887. He and his wife lived in Neil Street, Ballarat. He ran the family jewellery business started by his father, William Bennett. He joined the Ballarat Militia gaining his commission in the original 3rd Battalion at Ballarat in 1885, and rising later to the rank of Major. He was an excellent rifle shot, and he was in charge of the 7th Regiment team which won the Schumacher trophy in the Empire rifle shooting contests in 1909.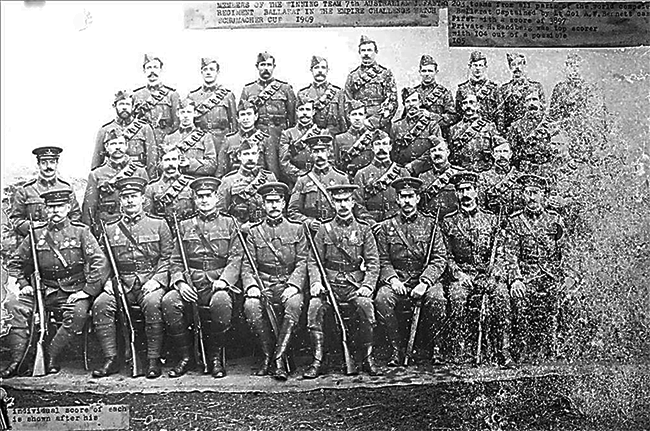 7th Australian Infantry Regiment Ballarat in the Empire Challenge Match for the Schumacher Cup - Bennett captained this winning team
He also joined the Ballarat City Rowing Club about the same time as he joined the battalion and showed the same leadership as he did in the military filling the role of Captain and then President and Vice-president for many years. 1n 1904 in the club Trial pairs for trophies presented by Mr. E. Shew and Mr. M. Newton there was a series of very interesting and indeed exciting races held. The trophies were won by Mr. A. W. Bennett and Mr. W. Bolt. Major Bennett, as he was then, had returned to racing this season after an 18 year retirement! He would have been 38 or 39 years old. It was considered remarkable in 1904 and remains a fairly remarkable effort even today when Masters rowing is so popular and many former rowers rediscover the joys of rowing!
Most crucially he was elected President again at the Annual Meeting in 1918 after WW1 and was instrumental in rebuilding the club. He took over from James Tulloch who had done a sterling job of being caretaker president during the two years the shed was closed. Lt. Col. Bennett bought with him first-hand experience of fighting at the front and would have been very supportive of any members returning to the club after being away fighting. He was also President of the Ballarat Regatta Association, post war and was umpire at many regattas on Lake Wendouree including Head of the Lake races during the 1920's. He was President until the Annual Meeting in 1922 when another club stalwart who had served in WWI, Dr. Edward Champion was elected. This bought to a close active service for the club of nearly forty years.
The 29th Battalion AIF was formed under Lt. Col. Bennett's leadership at the start of WW1, as he was an experienced and well regarded militia officer. He enlisted on the 22nd of July 1915. In September 1915 a presentation of a gold mounted fountain pen was made to him by the officers and committee of the club when he was leaving for the Front. His Unit embarked from Melbourne on the HMAT A11 Ascanius on November 10th, 1915. He was aged 53 when he embarked. Lt. Col. Bennett would lead his beloved Battalion through many a horrific battles, until he relinquished command and was posted to England on 19th of November 1916. He returned to Australia on the 11th of January 1917. His son, Captain Rae Gillbee Bennett (8/01/1889) also enlisted on the 29/08/1914. He served at Gallipoli and in France. He was wounded twice and returned to Australia on the 31st January 1918.
Alfred Wilton Bennett died on 17 September 1940 aged 74 and is buried in the Ballarat New Cemetery. He was the oldest military officer in Ballarat having held a commission for 55 years. He was one of the longest serving members of the club with his involvement being for forty years and his involvement with rowing in Ballarat being closer to fifty years.
Kate Elliott
November 2021