Malcolm Batten OAM
Commercial Rowing Club (QLD) and Mercantile Rowing Club (VIC)
1987 -Duisburg International Regatta Men's eight-Gold
1987 - World Championships - Men's Eight two seat - Fourth
1988 - NSW State Championship Men's 8 stroke AIS-Gold
1988 - QLD State Championship Men's 8 stroke-Gold
1988 - Interstate Men's Eight Championships (QLD) stroke - Fourth
1988 - Interstate - Men's Coxless four stroke-Gold
1988 - Olympic Games - Men's Coxless Pair bow - eliminated in Rep
1989 - QLD State Championship Men's eight stroke-Gold
1990 - Co founder of RMIT rowing club
1990 - QLD State Championship Men's eight stroke-Gold
1990 - Interstate Men's Eight Championship (VIC) two seat - Gold
1991 - Alumni member of the year RMIT, services to sport
1991 - Interstate Men's Eight Championship emergency (VIC)
1991 - World Championships - Men's Eight stroke - Tenth-Ouch…
1992 - 1994 Head Coach St Catherine School Rowing Club
2011 - President Mercantile Rowing Club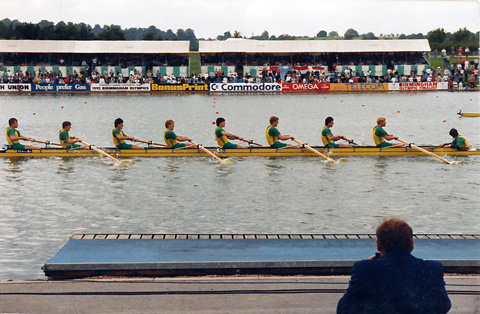 Mal started his rowing career as a coxswain at North Esk RC in Launceston in 1979. He moved to the Gold Coast in 1982 and rowed for a season with Tweed Heads RC prior to moving to Brisbane and joining Commercial RC. He was part of the first AIS scholarship holders in 1985 and held full AIS scholarships, 1985, 1986, 1987, 1988. He moved to Melbourne in 1988 and has been a member of Mercantile RC since.
Mal is a Director and partner of Cockram Construction. During his career with Cockram's he has worked and lived in China, Puerto Rico and USA, he is married to Pip and has 3 children, Lucas, Felicity and Thomas. He is currently President of Mercantile Rowing Club and is a Life member of Commercial Rowing Club.
He is a great contributor to the sport.

Andrew Guerin 2011