Newton Barton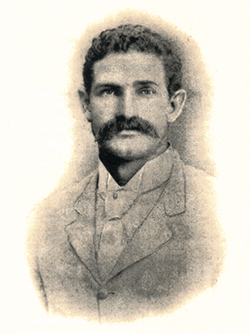 Newton was born in Maryborough, Queensland in 1870 at a time when bridges were in short supply and boating was an important means of transport. He was widely known as Newt. He died in 1935.
He lived an adventurous life on the water as a champion oarsman, deep sea sailor, fisherman and charter boat owner. Such were his exploits that one tribute paid to him on death was a viking born in a wrong age.
He was an important early Queensland rower who grew up on the Mary River where he and his brothers Charles and Jack learnt to row. He opened his stellar rowing career at Maryborough Grammar School and was the school's first champion oarsman.
Newton stroked the winning Maryborough Rowing Club four to the State Championship on 14 October 1899 at Rockhampton over 3 miles. Pre WWII, this was the major sweep oared State Championship race of Queensland. John Tidey in his book Newton and his Daughter states that: They won 'by as far as one can see a white cow in a bog' and were classed by a critic of the day as 'the finest crew that ever sat a boat in Queensland.'
His older brother Charles had shown Newton the winning way by having won the same race on five separate occasions including the second Championship in 1880.
John Tidey also notes that: Contemporaries described Newton Brown as 'one of the greatest - if not the greatest - oarsman the Mary River ever produced.' In his day he won practically every class of race ever staged;... .
Tidey also quotes from one newspaper obituary which summed him up in these word: A splendid specimen of Australian manhood, Newton Barton stood over six feet in his stockinged feet, weighed thirteen and half [sic] of bone and muscle and was as straight in principle as he was in statue.
Drawn from John Tidey's book Newton and his Daughters - A memoir.