Charles D Bartlett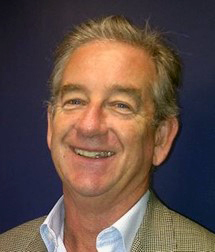 Melbourne University Boat Club (VIC), Leichhardt Rowing Club (NSW) and Newcastle University Boat Club (NSW)
(1st March 1956 - 3rd August 2022)
Charles was a great contributor to the sport on so many levels including club, university, State and national levels.
Commencing his rowing at Carey Grammar School in Melbourne, Charles stroked the second crew in 1972 and the first crew in 1973. He was coxed by his good friend Noel Donaldson and coached by another good friend in his club rowing days, Robert Stewart.
He did not immediately continue with his rowing, preferring to focus on his university studies and university life, football and even time as a ski instructor. Probably in 1975-76 season, Charles received a call from his old school coach Rob Stewart who persuaded him to pursue his rowing career.
This was a time of lightweight greatness after Australia's first FISA lightweight Championship in 1974, which was focussed in Melbourne with Melbourne University Boat Club at the centre. Mercantile Rowing Club also took plenty of championships as well, and both clubs pushed each other to new heights for almost a decade. Other pockets of lightweight rowing in Australia, particularly in Sydney, made the standard of Australian lightweight rowing extremely high. Charles had great respect for such tough competitors from Sydney such as Clyde Hefer, Mike Smith and Graeme Gardiner to name just a few. Later David Poulson's Buckingham four took over the leadership.
Charles is attributed with the oft repeated quote that at that time, winning the Penrith Cup was harder than winning the world championship. He had won two world championships before he won his first Penrith Cup. Charles went further to add that being selected into the Victorian Penrith Cup was more difficult than gaining Australian selection. Again Charles was testament to the accuracy of that statement being emergency for the Victorian Penrith Cup crew in 1980, the year he won the world championship in the lightweight four! The national selection process focussed on small boat success thus Charles prevailing in national selections.
These years of very hard work to make the high standard required made Charles a tough and highly competitive oarsman. His strong belief in himself, his determination and clear focus, combined with his head strong personality, ensured his success as a rower. He developed the patience and knowledge that can only come through these development years. When you raced against him, you always knew the race would be thoroughly fought out.
Interestingly, it is the contention of those interviewed for this profile that these years and his attributes made Charles an exceptional selector. He understood how hard it was to make a team and he never forgot that understanding in the selection process. He had empathy with the position of the rowers and did not want them to suffer selection errors. But most importantly, he challenged fellow selectors and coaches to ensure that nothing was overlooked.
Not only did his empathy and careful process make Charles a great selector, he had a great eye for finding what made a boat go fast and was skilled in finding the "X" factor in rowers, sometimes overlooked by others. Noel Donaldson was the Australian High Performance Director during the time Charles was a national selector. Noel had a great respect for Charles' selection skills and added that he was challenged regularly but for the right reasons.
One of the highlights of his rowing was the great pair combination of Charles and Simon Gillett. They were an unbeatable combination winning selection events consistently. Both were incredibly tough athletes who respected each others abilities. Having two headstrong individuals in one boat was perhaps not on paper an ideal choice. However it was a match made in heaven given their mutual trust and respect, although the vigorous discussions between the two may have made an outsider query this proposition. They both knew what was required to win. It was sad that there was no lightweight pair on the international calendar at that time to test this combination on the world stage.
Simon and Charles racing on the Nepean at the 1982 National Championships
Charles' administrative contribution to the sport was significant and again at all levels, club, university, State and national. He led his club MUBC as both Captain and then President. Later he was to lead his NSW club Leichhardt as President. He led the Victorian Association as a long standing Board member and Chairman of that committee, and then when he moved to Sydney, took similar positions at Rowing NSW. He also was a Rowing Australia Board member and long serving national selector. In his final administrative position as President of Leichhardt Rowing Club, he was instrumental in the future proofing of the Club's Constitution in 2013. This was to protect the club from outside takeovers and sets out a good structure to enable the club of 300 members plus a tenant school of 150 to thrive. He also was instrumental with coaching, rowing and leading Leichhardt to many victories in masters events. He introduced Leichhardt to the Head of the Yarra with one crew in about 2005. In 2022, the Club has 13 entered.
Despite all these activities, he was a devoted husband to Sally and father to his three daughters and grandfather to three grandchildren- a great family man. He worked hard all his life to be a strong provider for his family.
He worked in real estate for most of his life with companies such as Lend Lease, McDonalds and Landcom, changing in his final years to operating his own business - a business now run by his family. It was the acquisition of this business that lessened his time available for rowing. He gradually moved away from his NSW and Leichhardt responsibilities.
In more recent times, Charles was diagnosed with the very painful pancreatic cancer and with a poor prognosis. He fought bravely but finally succumbed to this disease on 3rd August 2022.
The sport is far poorer for the passing of Charles but the legacy of his work and contribution lives on.
Rowing summary
1972 - APS Head of the River, Carey Grammar second crew, stroke - Second
1973 - APS Head of the River, Carey Grammar first crew, stroke - Fifth
1978 - Victorian Championship, Lightweight coxed pair, stroke - First
1978 - Victorian Championship, Lightweight eight, stroke - First
1978 - Australian University Championships, Lightweight four, three seat - First
1979 - Victorian Championships, Lightweight Eight, stroke - First
1979 - Interstate Men's Lightweight Four Championship, stroke - Eliminated in repechage
1980 - Victorian Championships, Lightweight eight, seven seat - First
1980 - Interstate Men's Lightweight Four Championship emergency
1980 - World Championships - Men's Lightweight Four two seat - Gold
1981 - Interstate Men's Lightweight Four Championship three seat - Second
1981 - National Championships, Lightweight Pair, bow - First
1981 - World Championships - Men's Lightweight Four two seat - Gold
1982 - Victorian Championships, Lightweight eight, seven seat - First
1982 - National Championship, Lightweight Pair, bow - First
1982 - National Championships, Lightweight Four, bow - Third
1982 - National Championships, Lightweight Eight, five seat - Second
1982 - Interstate Men's Lightweight Four Championship bow - Second
1982 - World Championships - Men's Lightweight Eight seven seat - Fourth
1984 - National Championships, Lightweight pair, stroke - First
1984 - National Championships, Lightweight four, two seat - Second
1984 - Interstate Men's Lightweight Four Championship two seat - First
1984 - World Championships - Men's Lightweight Eight four seat - Tenth
1985-1999 - Committee Member Victorian Rowing Association including a term as Chairman of the Committee
1991-96 - President MUBC
1996-98 - Councillor for Victoria on ARC
1999-00 - Board Member Rowing Australia
1999 - relocated to NSW - joined Leichhardt
2001-07 - World Championships National selector
2004 - Olympic Games & World Championships Men's Selector
2005-09 - Board Member and Deputy President Rowing New South Wales
2006 & 2007 - Chairman of NSW Selectors
2008 - National Championships, Chairman of the Organising Committee
2013 - Inducted into the Victorian Rowing Hall of Fame
2011-14 - President Leichhardt Rowing Club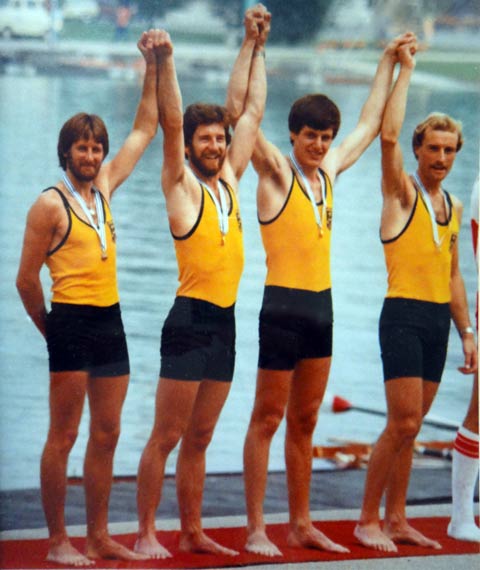 Andrew Guerin 2013 (updated August 2022)
Sources:
Interviews with Peter Antonie, David Yates, Noel Donaldson and Richard Bartlett
Author's records
Rowing NSW records