Annie Anezakis
Mercantile Rowing Club (VIC), Princeton University 2017 - 2021, Oxford University Boat Club (2021-2022)
Annie commenced her rowing at St Catherine's School in Melbourne where she excelled, stroking the school's first crew and being Captain of their boat club. Annie was awarded the Margaret Woodlock Award for Sporting Excellence and the General Sport Award at St. Catherine's.
Before moving to Princeton University, she enjoyed a successful season with Mercantile Rowing Club, which became her home club.

2017 National Champion Under 21 coxed four
Photo courtesy of Andrew Guerin

She completed a Bachelor of Arts at Princeton University majoring in Molecular Biology whilst successfully competing in their rowing program despite injury disrupting her 2019 season. Annie finished as a Pocock Lightweight All-American and IRA All-Academic Athlete.
Her rowing and academic experiences were not finished moving to Oxford University to complete a Masters of Pharmacology and compete in The Boat Race.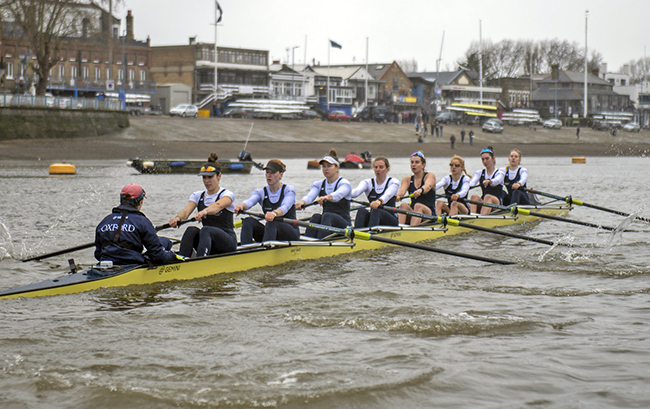 Annie stroking the Oxford eight on the Tideway on 20th February 2022
Photo from the OUWBC website - Credit: Row360 / Benedict Tufnell
This outstanding story has more to come and we look forward to her next chapters.
Known rowing record
2014 - Head of the Schoolgirls, Year 10 Div 1, 2 seat - Second
2015 – Melbourne Head, Schoolgirl Eight– First
2015 - National Championships, Schoolgirl Eights, six seat - Sixth
2016 – Ballarat Regatta, Schoolgirl Eight – First
2016 – Lake Wendouree Regatta, Schoolgirl Eight – First
2016 – Australian Henley, Schoolgirl Eight – First
2016 – Firbank Regatta, Schoolgirl Eight – First
2016 – Australian Rowing Championships, Schoolgirl Eight, stroke – Gold
2017 – Australian Henley, under 21 eight – Gold
2017 – Australian Rowing Championships – Mercantile U21 four – Gold
2017 – Australian Rowing Championships – Mercantile U23 eight – Silver
2017 – Australian Rowing Championships– Mercantile U23 pair – Bronze
2016 – Eastern Sprints - Princeton Lightweight Varsity 8+ - Bronze (Best result for Princeton since 2011)
2018 – IRA National Championships - Princeton Lightweight Varsity 8+ - Bronze
2019 – Head of the Charles - Princeton Lightweight Varsity 8+ - Gold
2019 - Sadly was injured for the Eastern Sprints and IRA's where her crew won and was second placed respectively.
2021 – IRA National Championships - Princeton Lightweight Varsity 8+ - Gold (Stroke seat) - First win for Princeton since 2003, 26.3 second victory over Wisconsin
2022 - Won all fixtures against Leander, Oxford Brookes, and Tideway Scullers School in lead up to The Boat Race.
2022 – The Boat Race, Oxford's Women's Blue Boat, seven seat - Second (Lost two and a half lengths to Cambridge. Both crews broke the previous 2017 course record.)
Flynn Snowden and Andrew Guerin
April 2023
Sources
https://goprincetontigers.com/sports/wlr/roster/annie-anezakis/18626 ;
https://goprincetontigers.com/news/2022/3/8/womens-rowing-lightweight-anezakis-21-to-stroke-oxford-blue-boat-this-spring ;
https://au.linkedin.com/in/annie-anezakis-7975791b9 ;