Harry Amad
Mercantile Rowing Club (VIC)
Harry comes from a Mercantile Rowing Club family with his grandfather being Brian Dawes, a successful senior rower and Olympic Rowing team reserve.
He learnt his rowing skills at Xavier College where he raced in the Xavier College Year 10 A VIII in 2016 and then in the First VIII for two years in 2017 and 2018. He successfully picked up a Victorian Championships in 2018 for Xavier in the B Pair.
Of note was that he captained Xavier College to their first A final at the Victorian Head of the River in 10 years.
Whilst Harry did not pursue his rowing initially, he did race for Old Xavierians in 2020 but COVID decimated that season.
Harry returned in 2021 racing for Mercs in both 2021 and 2022 whilst studying. With good results at Victorian Championships level, Harry raced for the Club at the National Championships in the under 23 eight and in the Club four and Club eight, narrowly missing out on a podium finish in both years.
Having finished his engineering degree, Harry wanted to undertake some post graduate study. The chance to row in The Boat Race was a large reason he looked to Oxford as the place where he wanted to continue his studies.
I first began to think about this as a possibility when I heard about a fellow Mercantilian, Jack Robertson, trying out for the 2022 crew. Also, following the covid lockdowns of 2020/2021, the chance to travel and live overseas for an extended period of time was an especially exciting prospect.
Harry was accepted into a masters degree in statistical science, which is a one year degree starting in October 2022, and finishing in September 2023. Fortunately for Mercantile, he will return to Australian late this year after some travel.
When asked about the Oxford rowing experience:
I have loved rowing at Oxford! It has been a very intense program since arriving in September last year, especially on top of a tough academic workload, but it has been very fun and extremely rewarding. I have improved a lot this season both physically and technically, and have really enjoyed the environment amongst the training squad.
And the rowing highlights whilst in the UK?
I raced a couple of regattas for OUBC last year in coxed fours, and also some fixture races this year in 8s as preparation for the boat race. The fours head regatta in November is a time trial race on the boat race course in London (in reverse), which I raced in the top OUBC 4+, placing 4th in the men's championship coxed four division.
I competed in the OUBC trial eights in December, which is a mock boat race between two evenly matched oxford crews that forms a part of selection. It was very competitive for the majority of the race, until there was some heavy clashing between the crews about 12 minutes in and my boat caught a crab and fell behind and were unable to make up the gap.
Another highlight of this season has been the training camp we went on in Temple-sur-lot in France in January. Following a break over Christmas, the squad stayed in Temple-sur-lot for a week, which has a great training facility and vast river for us to row on. It was a very successful camp for us as a squad with many improvements made, and was a great time with everyone staying together.
In February I rowed in the blue boat in the first set of fixture races we did, against Molesey boat club, which we won convincingly. I then rowed for Isis in two fixtures against Oxford Brookes and Leander. We lost those races, but we learnt a lot from the experiences and significantly improved after both weekends.
At the time of writing this story, Harry was in the seven seat of the Isis crew and a matter of days before racing. He very nearly made the Blue Boat.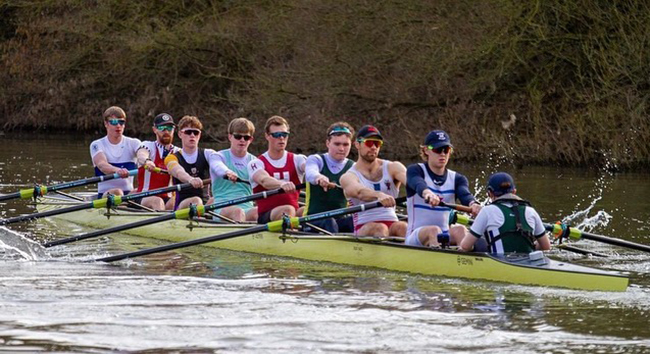 Both he and his crew are very pleased with how we as a crew are going at the moment and he added - It has been a very exciting build up!
And plans for rowing after The Boat Race? I'm planning on having a break after the boat race, but there are more opportunities to row for Oxford while I'm here. Oxford crews often row at Henley Royal regatta, which I may look to try for - but I have some work to catch up on first! There is also some inter collegiate bumps racing at the end of May which I would like to do for my college, Oriel. I would love to race for Mercantile again once back in Australia next year.
This is a great story of combining studies with a most interesting rowing experience.
Andrew Guerin
March 2023
Postscript
Cambridge University made a clean sweep of both the blue boats and the reserves boats in 2023.
Sources:
https://www.theboatrace.org/news/reservescrewsannounced2023

Author's Records