D Ian Allen
Albert Park Rowing Club (VIC), Yarra Yarra Rowing Club (VIC), Alan Mitchell Rowing Club (VIC) and later Banks Rowing Club (VIC)
1954 - APS Head of the River - Wesley College first crew four seat - Fifth
1955 - APS Head of the River, Wesley College first crew six seat - Equal second
1956 - Olympic Games – Men's Coxed Four stroke - Fourth
Ian commenced rowing at Wesley College and raced in its first crews in 1954 and 1955. In his second year in the first crew, six members of the 1954 crew returned and the crew rowed in club races winning maiden eights at Ballarat, Geelong and Henley. Racing in club events was unusual at that time and they may have the first crew to do so.
Bob Duncan in his book Small Boat Rowers of the Fifties, self-published in 2015, commented on Ian as follows: Ian Allen was only 18 and in his first year at our club, having graduated from Wesley College at the end of 1955. With experience of having rowed in their Head of River firsts crew for two years, he was a rare "great find" for our club. That Wesley crew was the first of the school crews to row in club regattas, starting a trend, which has become a major feature of Victorian rowing. Ian was one of the very best "ready-to-row" recruits we had ever attracted. In his 6 months of competing for our club, he had recorded many wins in events contributing to our Junior Premiership. Being a well proportioned 6'2" and 13 stone and passionate about success made him perfectly credentialed for the stroke seat.
1956 Olympic coxed four with Ian second from the right
Ian joined Albert Park after leaving school at end of 1955 and rowed junior races during remainder of that season. He rowed in one senior 8 race in composite crew stroked by Neville Howell.
The winners of the eight and scull at the Interstate Championships in May were selected for the Olympics and other selections were based on test races to be held in September at Ballarat. The expectation was that defeated state eights would be broken up and compete in the other boat classes.
Ian tells the story of the selection of his four as follows: Three junior rowers at Albert Park decided to try for selection in a coxed four. Kevin McMahon (aged 17), Reg Libbis (aged 23), and myself (aged 18). Fred (Mick) Easton had coached the junior crews at Albert Park and was coach. Mick was 70 and had rowed for Tasmania in early 1900s and was a regular coach at Albert Park. We had to find a fourth rower for the bow seat and asked a number of people. Eventually Gordon Cowie (Corio Bay member but working in Melbourne and rowing with Hawthorn) was suggested and agreed. We also needed a cox and John Jenkinson from Yarra Yarra (age 14) agreed to join the crew. We rowed from the Yarra Yarra club for longer rows on the river than would be possible on Albert Park Lake, and wanted to be dark horses in the test race. We trained on the Lower Yarra and when near the sheds rowed badly so no one would expect us to be serious rivals. Two weeks before the test races at Ballarat there were practice races on the Yarra. We unexpectedly won the coxed four beating a State 4 that had been selected and a strong crew from MUBC. A chapter in Bob Duncan's book titled "Where the Hell Did They Come From" describes this unexpected success. Selection races were held at Ballarat and we won heat, semi-final and final and were selected. The coach of the coxed 4 was to be recognized as coach of crews other than the eight so Mick was nominally coach for the team.
Ian described his Olympic racing in the following clear terms: In the Olympics we rowed against US in the heat and several other crews. First and second went on to the semi-final and we simply rowed beside the US without worrying about place. They won narrowly but it wasn't really a race. In the Semi we did our normal fast start but were a length behind a crew from Italy. We couldn't catch them and came second. This was the only time another crew had been faster than us at the start. That qualified us for the final but we spent a lot of time thinking about tactics. Should we try for a win or for a place, but eventually decided to go all out for a win. We sprinted from the start rating 48 which was considerably higher rating than we had ever done before but couldn't sustain the pace. We led for the first 1000 meters but eventually Italy got past us. The fast start had been too much for us and we were passed at 1500 by Sweden. At the end we were announced as third, but were moved to fourth after a photograph. So no medal.
Post Olympic Games - Our first race after the Olympic event was on the same day as the closing ceremony at the Olympics. It was The Festival of Tasmania International Rowing Regatta in Launceston. We decided to go, and rowed against the Canadian four that had won the coxless four at the Olympics by five lengths. We beat them by four lengths which gave us a bit more confidence after being beaten in Ballarat.
The crew won the State championship four in 1956 as an Albert Park crew with Don Christie from Albert Park replacing Gordon Cowie and John Cockbill replacing John Jenkinson as cox.
Ian transferred to Yarra Yarra in the 1957-1958 season. He rowed in various races in pairs, fours and eights but had problems getting cramps in left leg, possibly due to a minor childhood minor polio episode. He withdrew from trials for the 1958 Empire Games in Cardiff and ceased serious rowing though he did some more rowing with Yarra Yarra in 1961 and 1962.
Masters Rowing – Ian returned to rowing in 1993 with Collegians (since renamed as Alan Mitchell Club) at the age of 54 and rowed with Collegians at the World Masters Games in Brisbane in 1994. In 1995 he rowed in a four at the FISA World Masters regatta at Lake Bled winning three events - D4, E4, (the four included John Henshaw, Dennis Millikan, Paul Guest and himself and this four combined with a group from Corio Bay to win the D4). After that Ian transferred to Banks Rowing Club and kept rowing with that club until 2005. There was a strong masters rowing group at Banks including Dennis and John who had also transferred from Collegians and other former Olympians including Paul Guest, Brian Vear, Jim Lowe and Chris Shinners. With this group Ian won a substantial number of State and National championships in pairs, fours and eights in categories D to G. He competed in World Masters Games in Brisbane in 1994 and Ballarat in 2002, and World Masters Rowing Championships at Lake Bled, Adelaide and Seville winning a total of 16 gold medals at these regattas.
Ian kept rowing with Banks until 2005 and his final races were at the Australian Masters in Rockhampton in that year winning coxed F4, G4 and G8 races.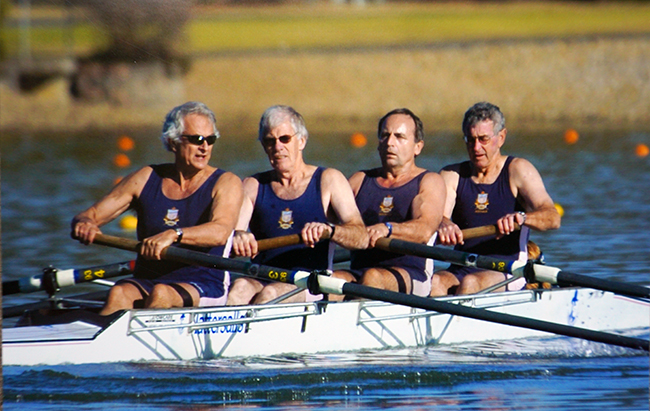 Racing successfully in 2004 at the Australian Masters Championships with Banks - Ian in the three seat
Compiled from Ian's recollection in May 2020
Andrew Guerin