Michael Aikman
Melbourne University Boat Club (VIC)
1950, 1951 - Head of the River GC, seven seat (50), five seat (51), Capt of Boats 1951
1952 - 1955 Ormond College, The University of Melbourne. First,
1955 Intercollegiate Boat Race
1955 - Intervarsity Boat Race - The University of Melbourne, 5th seat - First
1956 - Interstate Men's Eight Championship, three seat - First
1956 - Olympic Games - Men's Eight, bow - Bronze
1957 - 1959 - Camberwell High School - Master in Charge of Rowing, 1st VIII coach. First at High Schools Regatta in 1958 & 1959
1960 - 1961 Scotch College - 3rd VIII Rowing coach, First 1960 Head of River
1990 - Founded Haileybury College Boat Club
1991 - Haileybury College 1st VIII Coach - won B Final at the Head of River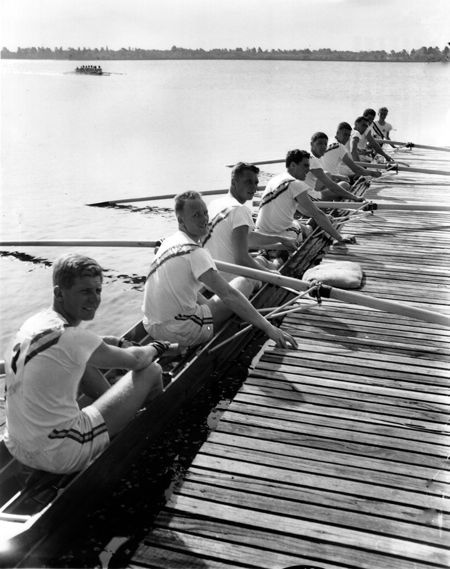 Michael's elite rowing career began in 1955 in the five seat for The University of Melbourne; competing in the Intervarsity Boat Race on the Hamilton River, Brisbane - a three mile race that UoM won easily by 8 lengths. Following this success the coach, Dr L Williams, decided to challenge the Mercantile VIII for State selection in the forth coming season after end of year exams. Early results were not good as the crew did not have the seasoned conditioning of the older and experienced Mercantile crew. As the season progressed the University VIII made ground on the Mercantile crew, cumulating at the selection regatta, Henley. The University crew, fuelled by self belief, held on to a narrow victory, ending Mercantile's undefeated reign. The selectors for the Victorian VIII held a meeting at the conclusion of the regatta and Michael, along with Jim Howden and Adrian Monger, were selected. The composite crew went on to win the Kings Cup, which was also the Olympic selection regatta. Following the Kings Cup, Michael was invited to join the Olympic crew.
After the Games and the showing of his Bronze medal, rowing at Camberwell High School was given great impetus and Michael set out to build up the boat club to a level not yet seen in a high school, cumulating in the 1959 High Schools Regatta with the 1st, 2nd and 3rd VIII winning their divisions. In 1960 he joined Scotch College, coaching the winning 3rd VIII at the Head of River and winning the 3rd VIII intermediate final in 1961. Michael's teaching career lead him to the position of Head of Chemistry at Trinity Grammar, Sydney in 1962 and later to Scotts School Bathurst, in 1966, as Headmaster. He returned to Melbourne in 1974 as Principal of Haileybury College where he remained until his retirement in 1998.
Amongst the many developments under his leadership at Haileybury College, his lasting legacy to Victorian Rowing was establishing the Haileybury College Boat Club in 1990 and coaching its inaugural 1st VIII in 1991, winning the B final at Head of River. The last time a headmaster had coached a 1st VIII was in the early 1900s. Coaching a competitive 1st VIII within 2 years had tongues wagging on the river bank. Michael chose to follow the lead the Canadian coxless four had shown back in 1956. The Gold medal winning Canadians had stayed together as a crew for a few years and Michael decided to try the same approach at Haileybury College. From 1990 to 1991 the 1st VIII had only one seat change which was forced from illness. In 1998 he appointed fellow Olympian Mark Doyle, son of Brian Doyle 1956 Olympic VIII, as Master in Charge of Rowing.
Michael battled cancer for a year and passed away on 16th February 2005, aged 71.
Andrew Guerin 2010