Herbert (Bert) T A'Court
Thames Rowing Club (UK) and then Yarra Yarra Rowing Club (VIC)
1893 to 21/8/1972
Bert arrived in Australia in 1922 from England and joined Yarra Yarra Rowing Club. He was a single man for much of his life only marrying in his 50s during the 1945-46 season. For many years, Bert lived at the YMCA which was only a 5 to 10 minute walk to the club.
His only recorded inter club victory was a maiden eight at Henley 1924/25 season (4 seat). However, he won several club races from 1927-28 to 1953-54, mainly as bow or stroke.
In the same season, Bert joined the Committee and he held that position through to 1945/46, with a few breaks in-between.
His administrative contribution continued, being elected a Vice President 1946/47 season and maintaining that position until the 1959/60 season.
His work was obviously highly valued as he was elected a life member in the 1956-57 season. This was further highlighted when Bert was elected President for two seasons in 1960/61 & 1961/62.
Coaching appears to also have been an area highly valued by the Club. He coached a maiden four at Henley in 1933-34 season and novice crews throughout that season. In his later years Bert would be seen taking out beginners in a Sunday row, giving guidance from the coxswain's seat in a tub pair.
Bert was also part of a Christmas day eight composed from the elder members. From 1965 till his passing.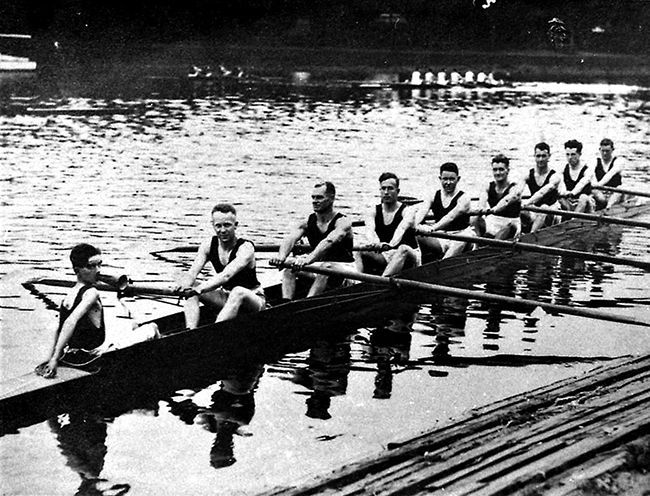 1925 YYRC maiden eight - victors at Henley with Bert in the four seat
The obituary in the 1972/73 annual report records:-
"It is with deep regret we report the passing our staunchest friend and club mate, H T (Bert) A'Court.
Bert, who passed away in August 1972, was a club member just on 50 years and had been in constant attendance throughout that period. Bert joined the club after arriving from England early this century, having rowed with the Thames club in London, and he continued with Yarra Yarra for many years.
He helped many a novice by teaching them the fundamentals of rowing and it is fitting we are presently conducting memorial pair in his memory."
Jim Skidmore
August 2022