1973 – Inter-Dominion Women's Four
Possibly the first women's sweep Australian representative crew.
In April 1973 both the NSW Heavyweight and Lightweight Women's Fours won their events at the Australian Interstate Championships. The women's events were held on the Barwon River, Victoria.
As a consequence of the success of both crews in winning the Australian Interstate Championships, and not long after their return to Sydney, both crews were nominated to compete against New Zealand in the "Queen's Plate". The intention was that it be a race for women to be held between three nations: Australia, Great Britain and New Zealand. An Interdominion race, though on this occasion Great Britain did not compete.
The first race was held on the Parramatta River course, finishing off Sydney Rowing Club. The results were:
First: Australian Women's open crew
Bow: Sita Carter (NSW)
2: Jill Callan (NSW)
3: Pamela Murray (NSW)
Str: Jeanette Cameron (NSW)
Cox: Steve Evans (NSW)
Cch: Bruce Evans (NSW)
Second: New Zealand Women's HW crew
Third: Australian Women's lightweight crew
Bow: Jill Dennis
2: Evelyn Adams
3: Anne Titterton
Str: Therese Clancy
Cox: Vernon Bowrey
Cch: Margaret Mackenzie
The second race against New Zealand was held in conjunction with the men's Interstate Championships at Murray Bridge on 5th May. The Australian crew won.
The Australian crew after their race at Murray Bridge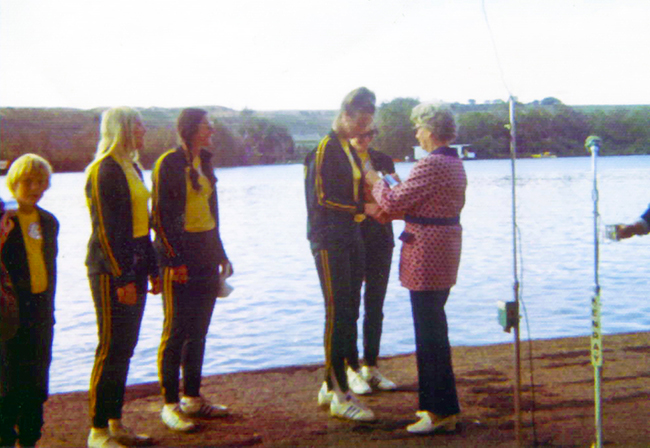 Presentation at Murray Bridge
---
Sources
Author's own records
Interview with Anne Titterton in June 2023