1967 – 1st North American Championships, St Catharine's CAN
Men's Coxed Four – Gold
Bow: Stephen Gillon (VIC)
2: David Douglas (VIC)
3: John Harry (VIC)
Str: Graeme Boykett (VIC)
Cch: Hubert Frederico (VIC)
Men's Eight – Third
Bow: Terry Hayes (NSW)
2: Ian McWhirter (NSW)
3: Michael Morgan (NSW)
4: Reg Free (TAS)
5: Chris Stevens (NSW)
6: Alf Duval (NSW)
7: Lindsay Freeman (NSW)
Str: Brian Denny (NSW)
Cox: Alan Grover (NSW)
Cch: Lance Robinson (NSW)
Men's Scull – Seventh
Robert Shirlaw (NSW)
Manager: Laurie Stepto (NSW)
These Continental Championships were very important landmark for Australia as it was the first Australian sweep oared gold medal in a FISA Championship. It was therefore a significant event in Australian rowing history.
The third placing in the eight in a field of twelve also provided great hope that Australian men's rowing was at last turning the corner in international competition. These athletes continued through to the 1968 Mexico Olympics and formed the basis of the silver medal winning eight at those Games - another significant step for Australian rowing.
The Australian borrowed boats for these Championships. The men's four fell on their feet after their arrival with the Bobby Pearce hearing of their boat problems and arranging for them to borrow an excellent George Pocock shell. Pearce, then a Commander in the Royal Canadian Navy, used his influence to borrow the best boat from the Westside Rowing Club of Buffalo, where they undertook some training.
Bobby Pearce centre with Alf Duval left then Reg Free
The men's four raced superbly in their final leading from start to finish in close to a 3 second win.
Final of the men's coxed four with Australia comfortably winning.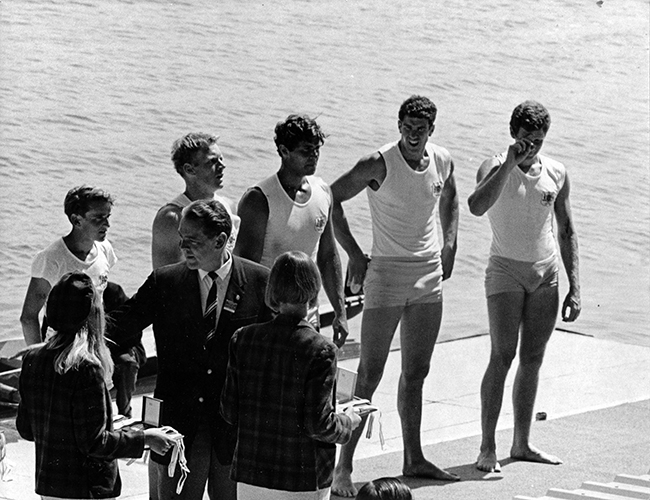 Presentation of gold medals to the four by Thomi Keller
These championships were first FISA Continental Championships organised outside Europe with 24 nations competing and with the best crews present. They were successful both as a sporting contest and as a social event. The best European oarsmen had been invited, and flew over in a specially chartered 'plane. They joined an Australian team and of course North American teams. All the oarsmen were housed together in one school, which enabled them to establish friendships. The course was perfect and the weather conditions good. Everything combined to make the championships a success. Hopeful of being chosen to organize the world championships, the Canadian federation had proved its competence in this field.
---
Sources
The FISA Centenary Book by Jean-Louis Meuret, published by FISA in 1992
Undated Melbourne Herald press clipping authored by Ray Todd from the Graeme Boykett collection
Images from the Graeme Boykett collection
Author's own records
Sydney Rows, by Alan May