Reflecting back on Australian's first sweep oared gold medals
December 2016
Now that the current international events are behind us, it is time to reflect back 50 years ago to Australian's first sweep oared gold medal at a FISA regatta and 30 years ago to our first gold medal at a senior World Championships in an open sweep event.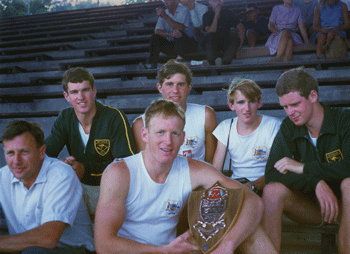 Fifty years ago in 1967, a Mercantile based crew won the first sweep oared gold medal for Australia in true international competition. To provide some background, the World Championships for rowing commenced in 1962 and were held every four years until 1974 when they were held annually. In the other years, FISA endorsed other events such as the European Championships to provide racing.
In 1967, it endorsed the Canadian Centennial Regatta as a FISA event and European crews attended the regatta at the expense of the regatta committee. Australian was represented by several crews including this coxed four from Victoria. The race was therefore against the best in the world, endorsed by FISA and so the first sweep gold medal won by Australia in such company.
The crew comprised:
Bow: Stephen Gillon
2: David Douglas
3: John Harry
Str: Graeme Boykett
Cox: Tom Daffy
Cch: Hubert Frederico
30 years ago Australia won it's first World Championship eight at Nottingham.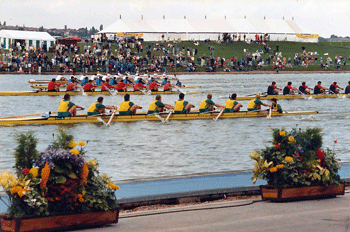 It was one of the highlights of Australian rowing history. The crew comprised:
Bow: James Galloway (NSW)
2: Mal Batten (QLD)
3: Andrew Cooper (VIC)
4: Michael McKay (VIC)
5: Mark Doyle (VIC)
6: James Tomkins (VIC)
7: Ion Popa (VIC)
Str: Steve Evans (NSW)
Cox: Dale Caterson (NSW)
Cch: Reinhold Batschi (ACT)