Robert G K Waley
Sydney University Rowing Club then Sydney Rowing Club by 1914 (NSW)
1908- Interstate Men's Eight Championship cox - First
1900- Interstate Men's Eight Championship cox - Third
1910- Interstate Men's Eight Championship cox- First
1911- Interstate Men's Eight Championship cox- First
1912 - Olympic Games - Men's Eight cox- semi finalist
1912- Henley Royal - Grand Challenge Cup - cox - First
1914- Interstate Men's Eight Championship cox- Fifth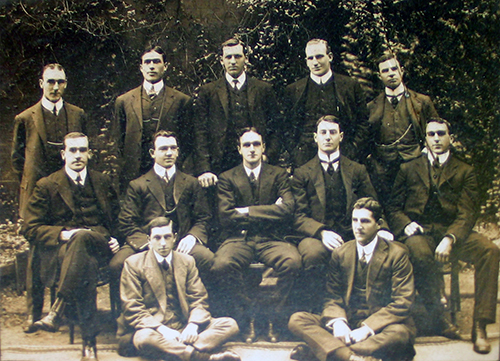 Although his given name was Robert, the Sydney Rowing Club history reveals that he was perhaps best known as "Ken" or by his nick name "Didger". His full name was Robert George Kinlock Waley.
He enlisted late in WWI and served in the Flying Corps. He was promoted from Private to Sergeant during his short service. He appears to have been a sergeant clerk rather than serving on the front lines. He also appears to have been ill on the way over to Europe, being isolated on his arrival.
He left behind his wife and was described at enlistment as a company manager. He was 5' 3'' tall and weighed 8st 13lb. He was nearly 30 years old at enlistment. Interestingly, he was returned to Australia just before Armistice for duty at the Central Flying School Australia but was almost immediately discharged. As a result he did not race in the Henley Peace Regatta in the UK in 1919.
Andrew Guerin - April 2018