Ron March
Ronald John Selwyn March
Richmond Rowing Club, Melbourne Victoria
Born 18 March 1910 Yass NSW; died 20 May 1987 Glen Iris VIC
Ron was a pillar of Victorian rowing throughout the 1950s and 1960s undertaking successfully many critical roles. In particular, he was the Victorian State Selector for 18 years from 1951 to 1969, during which time Victoria won the King's Cup on 13 occasions. He was also Vice President of the Upper Yarra Amateur Regatta Association and as a Delegate to Metropolitan Rowing Committee.
Ron played a pivotal role in the organisation of the 1956 Olympic rowing. An Olympic Rowing Committee was formed in September 1953 with representatives from all States. As the Victorian members were to take the load of the work, five Victorian members were included and other added later. Ron was one of these original five. This became the organising committee for the regatta. During the Games, Ron took on the onerous and critical role of transport.
He was Vice-President of Melbourne Amateur Regatta Association, Old Oarsmen's Association, Corio Bay Rowing Club, Glebe Rowing Club NSW and Victorian Rowing Association.
He was a Vice-President of the Victorian Rowing Association from 1953-86, an Elected Member from 1946-64 and an Executive Member from 1964-73. Ron was also an umpire, officiating at numerous Victorian regattas. A much loved and respected member of the sport who was generous in his assistance to anyone who asked.
Ron was also for 61 years, a key member of the Richmond Rowing Club. He was credited with keeping the Club alive and functional during WWII and also with coaching with great success in the post war years.
Despite his late adoption of the sport, (arising from a love of rugby during his education in the rugby heartland of NSW at St Augustine's College, Yass), he became a skilled and tough competitor, able to maintain his position in any boat.
His early years at the Club were as follows:
Joined Richmond Rowing Club in 1926-27 season
Won lightweight maiden eights Footscray 30th November 1929
Won lightweight maiden eights Rutherglen 1st January 1930
Second in the Champion Junior eights 1930-31
Second in the open lightweight eights and won junior eights 1933-34
Won junior four in 1935-36
then went onto a senior career as an oarsman. His most notable crew was rowing 2 to Wally Lambert in the senior fours from 1945 onwards.
After his retirement he continued to row socially on a Sunday morning.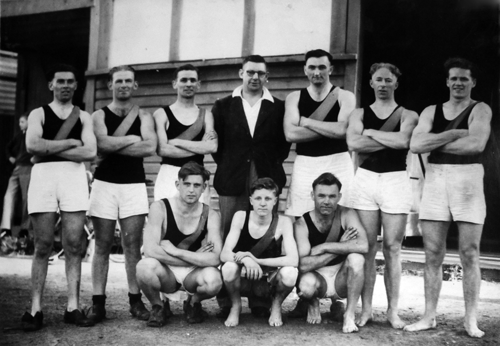 He held numerous senior offices in the Club:
President on two occasions - 1961-67 and 1974-77
Vice-President 1951-54 and 1967-74 and 1977-78
Captain 1940-51 and 1954-56
He was of course a life member of the Club.
Of the many tasks undertaken by Ron, he was instrumental in the rebuilding of the clubhouse after a fire destroyed it in 1971.
Ron was also a successful coach at Richmond Rowing Club, Yarra Yarra Rowing Club, St Kevin's College and Xavier College. The 150th commemoration book of the Club notes that : "the many winning crews coached by Ron were testament to his ability to impart his knowledge onto young people and mould them into very successful and highly competitive crews."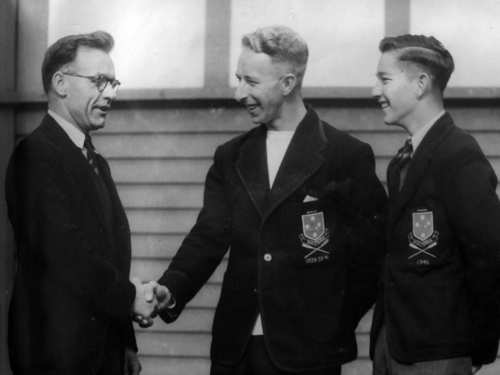 Of interest is that Ron was the organiser of annual club interchange visits between Richmond and both of Corio Bay and Glebe NSW He also hosted these Clubs when they competed at Henley on Yarra. He was a Vice-President of all these clubs. He assisted Essendon Ladies Rowing Club, particularly in the 1940s and Mary Doolan Cox, one of their rowers became godmother to his son.
On a personal level, Ron was a great family man whose family shared his passion for the sport. Both his mother and his wife Gertrude were heavily involved in Richmond Rowing Club activities. His daughter Rosemary was the driving force behind the revival of Henley of Yarra and the running of World Cup Sculling on the Yarra River in 1993.
Andrew Guerin 2017 from material provided by Rosemary Richardson