Stanly J Bulmer
Yarra Yarra Rowing Club (VIC)
5 February 1931 - 11 April 2020
1958 - Interstate Championships, Penrith Cup, emergency
Stan was selected as a Victorian State Representative, emergency for the inaugural Penrith Cup in 1958 at the Interstate Championships, Penrith NSW. The Victorian crew was successful in the event, defeating NSW by three feet.
Stan joined YYRC as a coxswain at beginning of 1945/6 season and coxed the first YYRC crew to win a race after World War 2: a Novice Pair at VRA Regatta, Saturday 10th November 1945.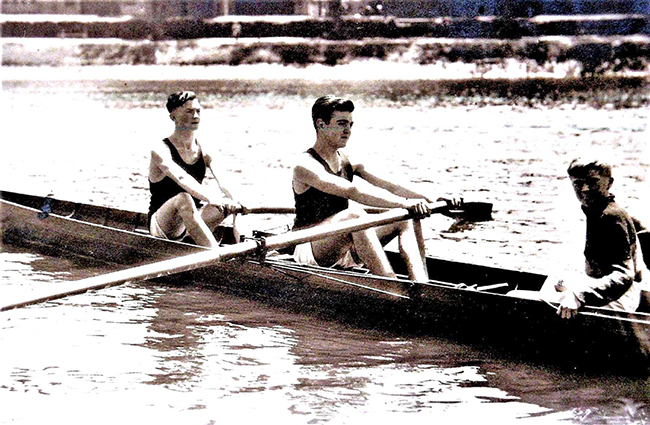 Stan steering his first win in a novice pair in 1945
He coxed a number of crews successfully and commenced competitive rowing in November 1949. His first rowing success was rowing bow in a lightweight pair in November 1949.
The following year he stroked a maiden four to victory at the VRA Regatta.
Stan's rowing career extended for the lengthy period from 1949 to 1964.
He was successful in over 40 events, competing in crews at novice through to senior classifications.
YYRC won Victorian Lightweight Premierships for both 1956/57 and 1957/58 rowing seasons.
Stan was a member of successful YYRC State Championship crews during that period as follows:
1956 - Victorian State Championships held 15/12/1956 over Lower Yarra 2000 metre course, lightweight coxed four won by YYRC, (Stan Bulmer in three seat) defeating South Melbourne RC by two and half lengths.
1958 - Victorian State Championships held 29th March 1958, lightweight eight won by YYRC, (Stan Bulmer in six seat) defeating Barwon Rowing Club by four lengths.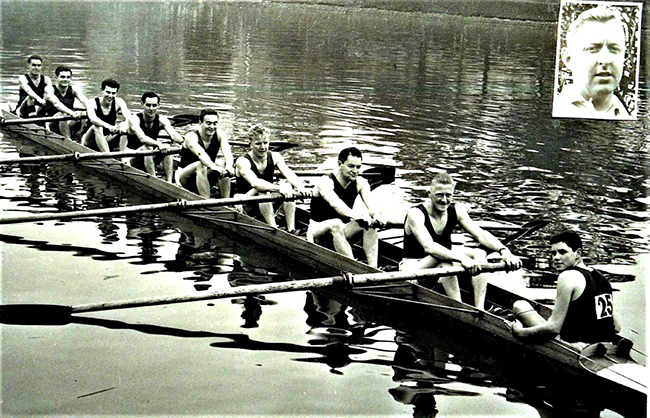 Stan in the six seat of his Victorian Championship lightweight eight in 1958
Selected Victorian State Representative - Emergency for LW4 - 1958 Inaugural Penrith Cup.
His last competitive event was in March 1968 as member of YYRC Head of Yarra Veteran 8 - Stan rowing in 6 seat. He was a very successful oarsman, extremely capable on both sides of the boat.
Stan served the club well. A tough, nuggety, never give up rower - active on Committee from 1951 to 1964 and was Vice Captain in 1953/4 season.
John Jenkinson
April 2021