1938 British Empire Games— Sydney Australia
The Commonwealth Games Federation web site reports:
"Held in the southern hemisphere for the first time, the III Games opening ceremony took place at the famed Sydney Cricket Ground in front of 40,000 spectators who were keen to see Australia and New Zealand excel against England in particular."
The Australian Amateur Rowing Council resolved at its meeting in May 1938 that the Commonwealth give permission to use the coat of arms for all Australian representative crews in international events and that the AOF and the British Empire Games Association be lobbied to make sure that coaches are regarded as part of the team and crew concerned
Canadian team marching into Sydney Cricket Ground
Selection
Ernie Keary from NSW was appointed the sole selector for this team. An initial squad of 26 oarsmen were selected and these rowers represented all States.
The selections were finalised following Henley on the Yarra at the end of November. A test race was ordered for the sculler with Turner finishing strongly to defeat Cecil Pearce by 2/3 length.
The crews convened at Sydney Rowing Club in Sydney to finalise the preparations.
Participation
Fifteen nations participated down under at the Sydney Games involving a total of 466 athletes and 43 officials. New participants included Fiji and Ceylon.
Sports
Seven sports were featured in the Sydney Games: track and field, boxing, cycling, lawn bowls, rowing, swimming and diving, and wrestling.
Australian Team
Men's Eight — Silver
Bow: W G (Bill) Thomas (NSW)
2: Francis (Frank) A W LeSoeuf (VIC)
3: Gordon H Yewers (WA)
4: Richard L Paramor (WA)
5: Edward (Ted) R Bromley (NSW)
6: William (Bill) JDixon (NSW)
7: A B (Joe) Gould (NSW)
Str: Alfred (Alf) J Gregory (SA)
Cox: Douglas W Bowden (NSW)
Emergs: J Chester (TAS) & Richard Scott (QLD),
Cch: R (Sidney) Raper (NSW) - Ernie E Keary (NSW) was originally appointed coach but withdrew due to illness three weeks prior to the race.

Men's Coxed Four — Gold
Bow: Gordon Freath (WA)
2: Donald H Fraser (WA)
3: Stewart J Elder (VIC)
Stroke: Jack T Fisher (NSW)
Cox: William Kerr (NSW)
Cch: T K (Toff) Qurban (SA)
Emergs: Max Gaskin (VIC) & J E Suffren (VIC)

Men's Double Scull (Invitation Race) - Gold
Bow: William F Bradley
Str: Cecil A Pearce

Men's Single Scull — Gold
Herbert J Turner (NSW)

Manager: John Rook (NSW)
Selector: Ernie E Keary (NSW)
Umpire: Edward Kenney (VIC)
Results
The racing was conducted on the Nepean River at Penrith over 1 1/4 miles.

Men's Single Scull
Final: 1st Herbert Turner (AUS) 8:24.0, 2nd P H Jackson (England) 5 lengths, 3rd Robert B Smith (NZL) 4 lengths.

Men's Coxed Four
Final: 1st Australia 7:16.8, 2nd New Zealand 1 1/4 lengths (Bow: Albert Hope, 2: George Burns, 3: Fred Thompson, 4: Howard Benge, 5: John Charters, 6: Leslie Pithie, 7: Oswald Denison, Str: James Gould, Cox: William Stodart, Cch: H Ayres), 3rd Canada 3/4 lengths

Men's Eight
1st England (J H Burrough, B S Beazley, R Hambridge, J Turnbull, P H Jackson, J D Sturrock, D Kingsford, Tim Turner, W T N Reeve (cox), Jack Beresford (coach)) 6:29.0, 2nd Australia 3/4 length, 3rd New Zealand (6: C A Stiles, 7: F H Thompson, Cch: H Ayres) 2 lengths.

The Australians led for most of the way but were rowed through by the British crew, who won by 3/4 of a length.

In addition to the official races, the organising committee included an unofficial double scull race.

Men's Double Scull
1st Australia (W F Bradley, Cecil A Pearce) 7:29.4, 2nd England 9 lengths, 3rd New Zealand (Gus Jackson , Robert Smith) 10 lengths.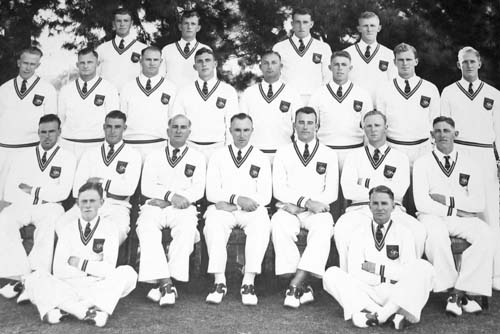 Back row, M4: G Freeth, DH Fraser, SJ Elder, J T Fisher
3rd row, M8: AJ Gregory, AB Gould, WJ Dixon, ER Bromley, RL Paramor, GH Yewers, FAW Le Souef, WG Thomas
2nd row: M Gaskin & JE Suffren (M4 emergencies), TK Qurban (M4 coach), John Rook (manager), Sidney Raper (M8 coach), JF Chester & RB Scott (M8 emergencies)
Front row: HF Kerr (M4 cox), DW Bowden (M8 cox)